Shooting games, referred to as STG for short, are just as they sound. Games with a heavy focus on gun or ranged weapon combat. This kind of game is often loved by the majority of players thanks to the tense rhythm and exciting graphics. Thanks to its popularity, the video game market has been flooded with shooting games trying to capitalize on the massive player base.. It is worth mentioning that due to the popularity of this genre, games have to find new and interesting ways to stand out which has helped give birth to the development of multiple game engines.
An excellent shooting game not only allows players to experience hearty battles, but also stimulates the players' nerves via a tense atmosphere, giving players an adrenaline fueled experience. So today, we are here to recommend five shooting games on mobile so you can enjoy this feeling anytime, anywhere.
Call of Duty : Mobile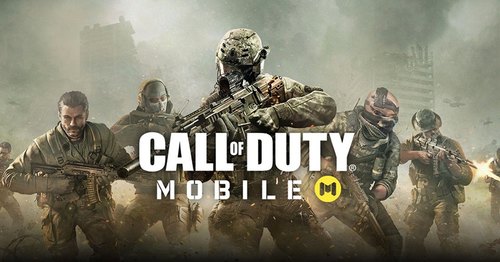 If you are an experienced shooting game enthusiast, then you must have heard of the name Call of Duty. So of course we have to start with the incredibly popular Call of Duty : Mobile.
The game is extremely well made with the typical realistic style you expect of Call of Duty and their diversified game modes, including Battle Royale, 5V5 team battle, sniper mode and other popular franchise gameplay settings. In addition, there are also plenty of unlockable characters, weapons and of course weapon skins in the game.
Many of the multiplayer maps are taken straight from the previous Call of Duty titles and there is even the addition of the hugely popular Zombies Mode.
Just because this is a mobile game it still maintains the super high level of production that you would expect.. Whether it's the character models, map design, special effects or the weapons, you will still get that Call of Duty feel. Even though this is a mobile game, players will feel right at home if they have played the previous games in this franchise. So if you are a loyal player of Call of Duty or just an FPS game lover, then Call of Duty Mobile is definitely worth trying.
Real Commando Secret Mission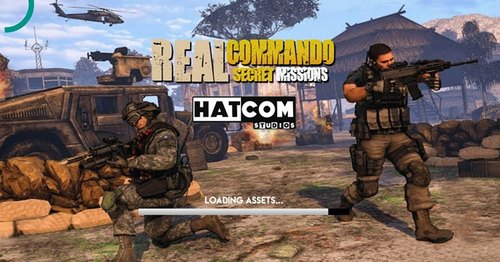 This is another 3D first person shooter (FPS). While the overall picture quality is not very good, sometimes even a little fuzzy, the overall game experience is still good.
As you would expect from an FPS, there are plenty of weapons to use from, each of which feels very different. The downside however is thanks to the lower performance, it can be difficult to track recoil and with the blurry picture, the effects of the weapons can make enemies even harder to see. The reason I enjoyed this game is thanks to it's Single Player mode. In the game you will play the role of a commando. Your duty is to serve your country and kill the enemy. You need to be very brave and skilled. There are dozens of strategic missions to play. All tasks must be completed to become the first commando. Of course the biggest worry with a single player FPS mobile game, is how the developers manage the difficulty. If it's too easy, players will get bored fast but on the other hand if it's too difficult, players will get frustrated and turn off the game after dying a few too many times. Fortunately players have the option to change the difficulty levels of the AI to best suit their ability level.
There are also multiplayer modes including Team Deathmatch and Battle Royale, so if you are a fan of FPS games, then it is highly recommended that you try this mobile game.
Warface : Global Operations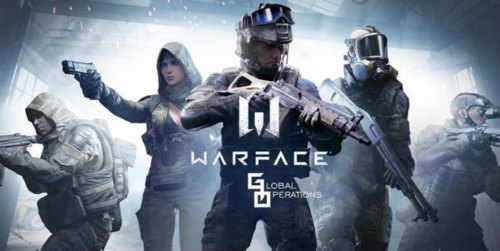 Warface : Global Operations is another FPS game, this time ported from PC.. As a military shooting game independently developed by Crytek in Germany, it is a AAA masterpiece developed by Crytek Kiev Studio, Crytek Seoul Studio and Crytek Frankfurt Studio. After being ported to mobile devices it has gained massive amounts of attention from many players.
In Warface : Global Operations, the graphics are incredible but the weapon feel is a little on the rough side. Of course it's not going to be comparable in terms of graphics to it's PC version, it is still amongst the best looking games on the Mobile format.
You can expect fast paced gameplay especially in the team modes, although there are a small amount of maps. Although the game balance is well done, the fewer maps are a flaw. Fortunately there are frequent updates to this game. On the other side of the content coin, there is a large amount of weapons and accessories. Customizable roles and a large number of customizable weapons including assault rifles, sniper rifles, shotguns and submachine guns. So if you are a loyal player of Warface, then you must not miss this mobile game.
The Survival Hunter Games 2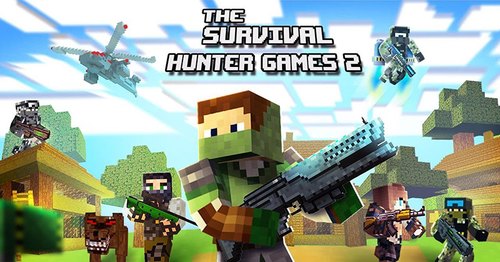 This is a pixel-style FPS shooting mobile game. The game not only continues the traditional single player pixel shooting game experience, but also adds the element of multiplayer battles on the same server, allowing you and your friends to play together.
The overall gameplay is level based. You start with a Bow and Arrow but you can also find weapons within these levels to use against your enemies. To complete these levels, you need to make good use of terrain cover and different items placed around each map. In addition, there are some interesting interactions in the level, in which can enchant your weapons.Simply put, this game looks like a copy of Minecraft, so people who like this style will like the game very much, and those who don't like it, it will be difficult to accept.. If you are tired of ordinary FPS mobile games and want to experience a different style of game, then this game is very suitable for you.
Cops N Robbers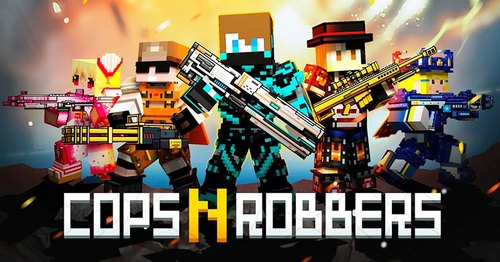 This is also a 3D pixel art style multiplayer online first-person sandbox shooting game. There are many ways to play in the game, in addition to the classic mode, there are also ranked, story, biochemical, and even custom modes, which can satisfy a large number of players in terms of gameplay. Although the game map is pretty basic, what is even more surprising is that this game also supports creative workshops, which means that this game has endless possibilities.
In terms of graphics, although it is a pixel-style shooting game, the overall optimization of the game is well polished, and there are many choices of weapons, whether it is a knife or a long sword for a melee weapon or an ordinary pistol or a submachine gun. There is also a surprising amount of recoil for the guns and the sound design of the melee weapons is also enjoyable and adds to the fun factor of this game. Unfortunately there is a big issue with this game in regards to the toxic community and the increasing amount of cheaters in the game. On the plus side however, the in game reporting system does a great job of removing these players, so you don't need to worry too much. So if you like this pixel-style FPS mobile game, then you must not miss out on playing this game.