Sandbox games refer to games in which you have the ability to roam around freely within a world or map and have the ability to change what that world looks like based on the decisions you make or even building and destruction. Many other gameplay elements are included in sandbox games, for example being able to dive around, fly a plane as well as the usual action and shooting mechanics.
One of the most popular sandbox games is of course Minecraft, it's quite possibly the first game that people think of when asked to name a sandbox game. The core gameplay of exploring a huge world, building a safe haven and surviving each night are some of the main elements of a traditional sandbox game. There are other games like the Grand Theft Auto series which offers a more action oriented experience instead of just survival but once again you get to explore and play in a huge world. I think this is also the reason why many players like the open world of sandbox games.
So today we recommend five sandbox-type mobile games for everyone, so that players can dive into even more open worlds.
Dude Theft Wars: Offline games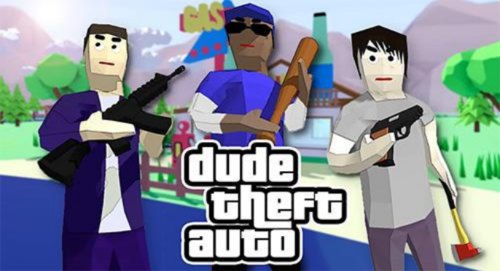 This is a pixel art style role playing sandbox game. In this game, players take the role of a criminal in this world and do whatever their dark hearts desire. It's a rich, huge game and the world is waiting for players to freely start their exploration. A large number of weapons and guns are waiting for the players to come and collect them too. Remember that you are a bad guy. Do as many things as criminals would do. The police will fight back!
As you can tell from the cover art alone, this game is a pixel copy of the Grand Theft Auto games. Although it is a pixel-style game, the quality of the game is surprisingly high. There is a clear task line in the plot, allowing players to enjoy the main line while freely exploring in their own time. As interesting as the story is, you can choose to ignore it completely and just roam around the world instead. In terms of weapons, there are various types of rifles, pistols and even bazookas to use. There are also multiple means of transportation readily available, as small as Bicycles and various types of sports cars, so it is not an exaggeration to call this game the pixel version of GTA. Of course, the game, like GTA, pays great attention to small details. If you don't want to fight and kill, there are many small games built in the game, such as bowling and basketball games, as well as many other ways to spend your time which is very interesting and worth trying out.
RealmCraft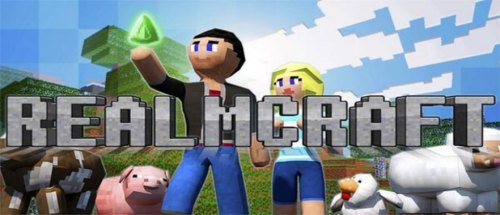 RealmCraft is a pixel-style open world sandbox game. The style of the game is very similar to Minecraft. Players can use various blocks to build whatever they can think of, limited only by their imagination. You can experience a peaceful and stress free life, or go on a wild adventure alone to experience the life of an adventurer.
The game is divided into two gameplay modes: survival mode and creative mode. In survival mode, players not only need to collect the items and food they need in order to survive, but also need to build their own shelters during the day to avoid the attacks of zombies at night. How long you can survive in this mode depends on your own will and defensive planning. Of course, if you don't like such intense gameplay, you can also choose the creative mode.
In the creative mode, the player is the god of this world. You can build your favorite buildings and objects as you like. If you feel lonely, you can also ask your good friends to join you and create brilliant buildings together. It's a good way to increase friendship when spending time together on a large scale project. So if you are a lover of open world sandbox games, you might as well try this mobile game.
ROBLOX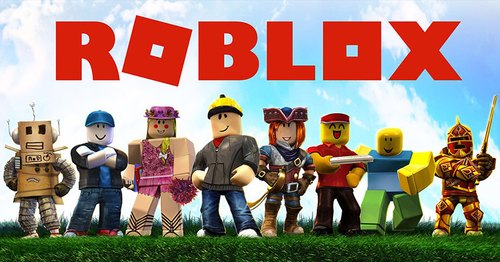 ROBLOX is not exactly a game, but it allows you to play thousands of games within it. In a nutshell, this is a game platform where tens of millions of players are online together. You can play various types of games such as parkour, decryption, and even battle other players. The biggest feature of this game is that these games are made by players using the ROBLOX Studio officially provided by ROBLOX. In other words, this is a platform where players make their own games. In theory, as long as there are players who keep making games, you can have an endless supply of games here. Roblox is still incredibly popular even 16 years after it's initial release date.
In addition, the Bad Boss mode in ROBLOX is popular all over the world, and is nicknamed the pixel version of Call of Duty by the majority of players. The excellent mechanical feel and the refreshing combat experience make every player who has played it admire it. So I would like to call this mobile game the most polished and popular in today's article.
Minecraft Pocket Edition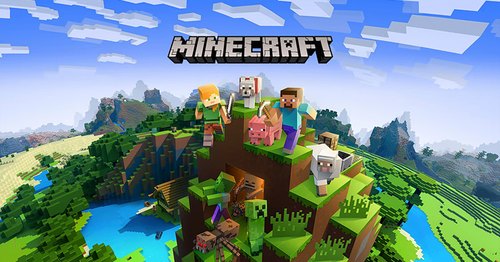 Minecraft Pocket Edition is also known as Minecraft Mobile needs no introduction. I believe that the huge majority of gamers know what Minecraft is. This is a pixel-style open world type sandbox game. I believe it is also a sandbox game perfect for many young players. A masterpiece of sandbox games. This version originally landed on Google Play on August 16, 2011 for $6.99.
There are two ways to play Minecraft Pocket Edition, namely survival mode and creative mode. In survival mode, especially in the initial stage of the game, you need to collect enough resources during the day to build your house to avoid zombie attacks at night. When you are strong enough, you can go on an adventure wearing gorgeous equipment, where you can not only kill monsters such as spiders and slimes, but also go to another world (Ender World) for even more exploration and brand new materials. In the creative mode, players can build their favorite buildings as they wish without too much difficulty. You can even build the Eiffel Tower inside the Colosseum and surround it with the Great Wall of China outside. The biggest feature of this game is that you can build whatever you want in it, your imagination is the only limitation. For example you can build a fully working computer in the game, and then continue to play Minecraft Pocket Edition on the computer. So if you are an open world type sandbox lover, then you will love this game.
ARK: Survival Evolved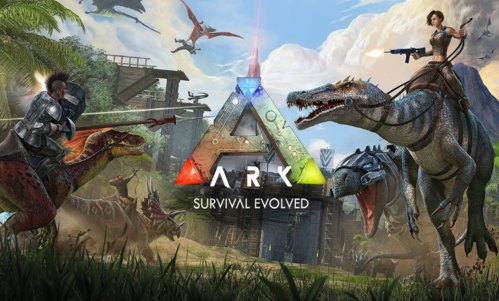 ARK: Survival Evolved is a ported mobile game. I believe that many PC players have played this magical game. This is a survival game with a large world. It is rich in content, with constant balance updates and large in scale. The attention to detail is really impeccable. In terms of optimization, this one is also relatively good. As we all see, it's not uncommon to see players with thousands of hours of playtime among them. Beautiful environment modeling, a huge community, rich construction system, and complete social system. It's an incredibly impressive game.
And now this game is also ported to mobile phones. This is great news for players who have lower end PCs who have been unable to play the main version of the game. The gameplay is rich and the content is huge, so I won't go into details here. Of course this is another sandbox game, so there are no rules restricting you here. Just remember that only the strong survive in this world. You can organize and build your own tribe, and you can also experience the feeling of being a dinosaur trainer in this world.
Although there are many beasts in the jungle, what I want to remind you is that humans are always the greatest threat. That's right, not only are there massive beasts to battle but you need to be aware of rival tribes attacking you or even sneak attacking your village. There are no rules, only winners and losers. So if you are a fan of sandbox survival games, then this game is worth a try!