Time seems to move way too fast for the average person. A hugely busy work lifestyle doesn't allow people to have the break they truly need, leading to immense amounts of stress. These types of people desperately need to find a way to relieve their stress even if it's only for 15 minutes. Fortunately we have found a way to help thanks to these 5 mobile games. Thanks to being on mobile phones, these games are easily accessible and the game time doesn't require much brainpower, and the game rules are relatively simple and easy to use. Although there are many levels, each round is very short, the difficulty is low, and it does not consume too much energy.
Given how busy the average lifestyle is, it can be incredibly difficult to take time to learn a new or hardcore game. So today's games are perfectly suited to the busy office worker, stressed out student and to anyone else who needs a break in their routine.
These games at first may be skipped for being too simplistic at first glance, however thanks to continued game development, I get to introduce you to 5 Match 3 games which all have rave reviews!
1.Gardenscapes - New Acres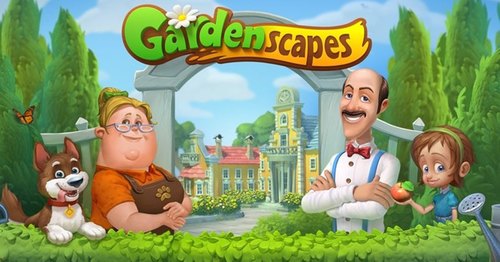 This game can be regarded as the most popular in this genre. It is a unique combination of Match 3 puzzle, Simulation and RPG created by Playrix who are a giant in the Mobile Game Market. It not only has a fresh cartoon style, but the plot also adds a needed evolution to the traditional Match 3 genre.
It is very different from most match-3 games. Most match-3 games are aimed at passing levels, but it is actually aimed at arranging gardens, making progression much more meaningful to players. The objective of the game is to complete each level to then unlock new ways to arrange your garden until you have created your dream garden. It's incredibly satisfying watching your garden grow, starting with only a few plants to a huge personal oasis. In your garden there is a housekeeper called Austin and a puppy. You can click on some objects to start a conversation with them both.
And it is also different from most simulation games. It is not just a game trying to take your money to give you new things to add to your garden. Depending on how well you complete each level, you gain stars, and then use the stars to perform actions such as upgrading your facilities or unlocking new decorations. You can however buy more stamina and items to use in the game with real money if you want to spend things up.
This mobile game perfectly combines match-3 games and simulation business games.
2.Homescapes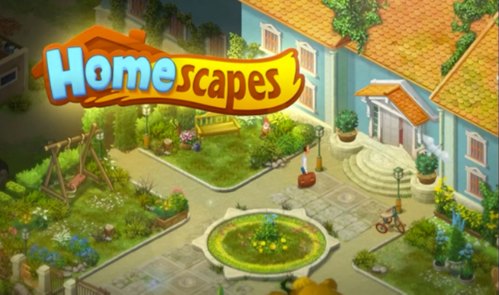 Homescapes is another Match 3 puzzle, Simulation and RPG created by Playrix.The games created by Playrix have always been very cute, and this one is no exception. The overall gameplay is the same as Gardenscapes, but the style and the use of items are more interesting.
The setting of the game takes place in Austin's garden and eventually his dusty home. The rules of the game are also to get stars through Match 3 games and use those stars to complete tasks. The immediate goal is to help Austin build his home, starting with the restoration of the very nostalgic bedroom. After the restoration, you can still see some of Austin's memories. When completing these tasks you will open up new areas, you can rearrange your home, choose furniture, and decorate the overall style into a dream home. After completing all the tasks available to you each day, the following day you will receive items and gold coins. The items you receive are mainly used during the Match 3 puzzles and are needed for cleaning and upgrading your home. There are also new friends to interact with, some doing so without you prompting them, giving a more organic feeling within the game. There are even cute kittens that appear in your home.
Austin is incredibly rich and has a huge family. So good luck keeping track of everyone who appears. If you also want to own such a big house, come to Homescapes to fulfill your desire to build a mansion!
3.Fishdom: Deep Dive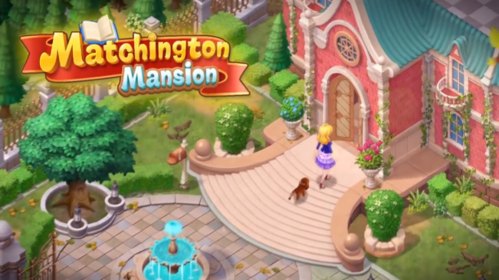 The sea is the cradle of life. Although human beings have dominated the earth, they still have unspeakable awe and fear of the sea. In the bottomless underwater world, there are so many secrets that humans have yet to answer. Fishdom: Deep Drive is again developed by Playrix is ​​also a beautiful Match 3 game.This time around the game takes place in an aquarium. Players need to complete a series of tasks via Match 3 puzzles, to unlock new items and upgrades. You can even purchase new fish to play with. To match this change of scenery, you will find many more items relating to marine objects such as pearls, seashells, octopuses, and starfish. This aesthetic change stands out amongst the other games and has a much more pretty and cute feeling to it. This is incredibly pleasing to the eye.Not only are the fish cute but so are the objects and backgrounds.
While the Match 3 mechanic may seem simple, if you eliminate 4 or more gems in one turn you can unlock items to cause huge explosions eliminating even more gems and giving you a greater score.
4.Matchington Mansion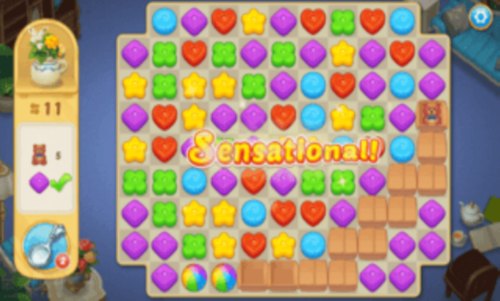 If you are tired of the more traditional Gardenscapes, you might want to try Matchington Mansion! Matchington Mansion is also a simulated business mobile game that combines Match 3 gameplay. In this game players only need to complete the Match 3 puzzles to gain stars which can then be used for building various facilities and to unlock new decorations. Every level has a specific task which you must complete in order to gain the stars necessary for construction. If you manage to complete the level with any turns left over, these extra turns will transform into new items and decorations, rewarding efficient gameplay. Don't forget that there are business elements in this game so players may need to repeat levels in order to gain more stars by completing each level in fewer turns. Once you have enough stars, you will be able to decorate and change the furniture in your mansion. In order to satisfy the preferences of different players, you get to choose one of three construction styles to decorate your home to your preference. In addition, players can also unlock more different characters in the Manor, and learn about each other's stories from their interactions. A large number of these interactions will also reveal some secrets hidden within this mansion.
5.Home Design Makeover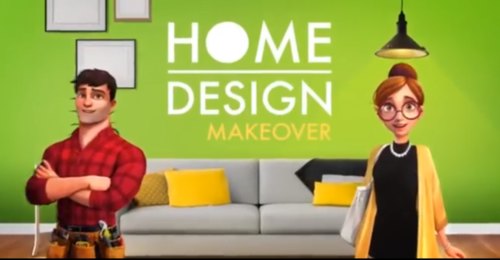 Home Design Makeover is a casual puzzle mobile game with home transformation gameplay. In this game players take on the role of a designer. Through simple match-3 gameplay, various old houses are transformed into mansions. All the designs are decided by the players.
There is an addictive offline game mode which allows you to play as much as you like, whether you have internet connection or not. Within the game there are not only thousands of levels, but also dozens of game modes. Whether you want to design a simple living room, a rustic kitchen, a stylish bathroom or a chic bedroom, you can use a wide range of high-end designer furniture, lighting, floors and other decorations to match your artistic taste.
With such an exquisite home, it'd be a waste to keep it empty. So naturally you'll want to add some cute little pets to roam around the rooms. Fortunately there is a good selection of cats and dogs for you to choose.During the renovation of the house, players have the opportunity to help and adopt puppies and kittens. They are not only capable little helpers in your transformation, but also helped remove some clutter. These cute pets bring so much joy in your life, caring for these little angels and seeing them play around will make you feel better. Players can also pack pets and send them out for travel. Pets which care about their owner will bring the player a photo of their travels when they return, and share the joy of the journey with the owner.
In short, this game will allow you to transform even the worst houses using your artistic imagination. Solving fun match-3 puzzles can help design, customize and decorate the perfect dream house with beautiful objects. Come to Home Design Makeover, your clients are counting on you to transform their dilapidated and outdated houses into modern mansions!